I saw this idea first on
Dollar Store Crafts
. What a totally easy and fun thing to make. The fact that Zachary is at the perfect age for this toy is icing on the cake.
So you start with some fabric and a baby wipes package (just the package, not the wipes.) The package has just the right amount of crinkliness. A great reuse.
I cut 2 6-inch squares of flannel and 2 6-inch squares of batting. I sewed little tabs of ribbon, rick rack and other trim around the edges.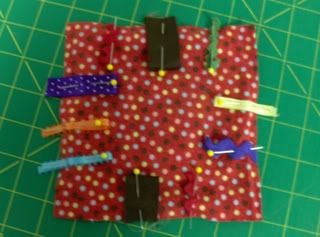 I sewed it all up with a little opening for turning.
Trim your corners, flip it around, stuff your baby wipes package inside, pin your open edge closed and sew around the whole thing about 1/8 inch from the edge. Done. Easy peasy!
Here's the little man enjoying his new toy.
I'm sure if you took a little more time it could be even cuter. And maybe your photos wouldn't be blurry either.