This quilt has been in the making for quite some time. I bought the charm pack (Friends and Flowers by Mary Englebright) over a year ago and started making half square triangle blocks with it. When I put it on my design wall it just didn't 'do' anything for me in the way I had envisioned it. It made it's way into my WIP basket and that was it for awhile. But as of late I am trying to finish some of those WIP's and so here is the table quilt. I arranged the blocks in an entirely different way than I had planned and it looks much better. It's still not my favourite, but I do like it and will give it away as a gift.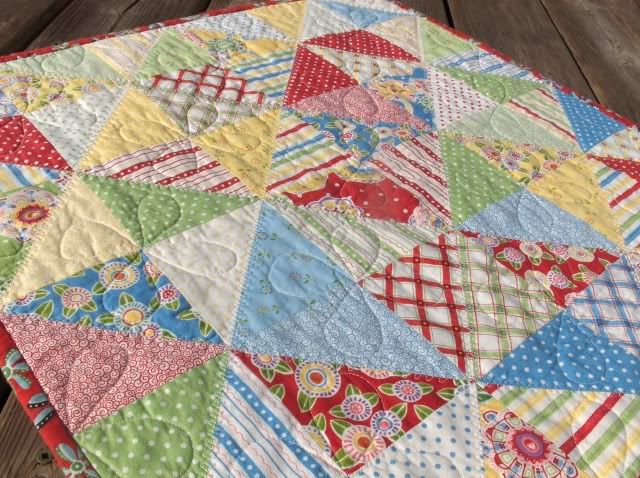 I tried some different quilting on it. It's good to try new things with small quilts. I used a special stitch on my sewing machine.
Today my two oldest children are back at school. I'm not sure how I feel about this. On the one hand it's 10:45 AM and I've completed all of my pressing tasks for the day including making supper. On the other hand my children are gone all day long and I hardly get to see them, talk with them etc. I'm sure it will all sink in over the course of this week.
Hope you all have a good day! Thanks for reading. (Feel free to say 'hi' in the comments.)